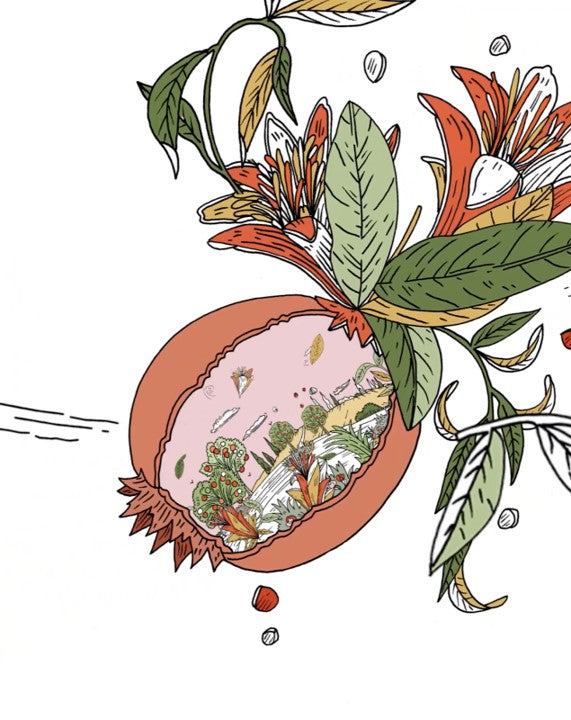 A reproduction of the pomegranate fruit, handcrafted in terracotta.  It is soaked in Officina Profumo-Farmaceutica di Santa Maria Novella's Melograno fragrance which is released slowly in the air.
Ø 9,5 cm
Place on the plate provided in the box in order to avoid direct contact with all other surfaces.
Déçue…
Une amie m'a offert ma première grenade l'année dernière. Elle a tout de suite embaumé ma chambre, et sa fragrance s'est même diffusée dans d'autres pièces de la maison. Un vrai bonheur !
C'était bien la première fois que j'avais un résultat aussi bon avec un diffuseur. L'odeur s'est atténuée au fil des mois mais elle a bien était présente environ 9mois
J'en ai donc racheté une fin septembre, et là, peu de parfum diffusé, vraiment l'odeur était subtile, voire inexistante…
Très étonnée, je me suis permise de la rapporter un mois et demi plus tard au point de vente, et on m'a très gentiment échangé la grenade.
J'ai la nouvelle depuis 15 jours environ, et je suis dépitée… l'odeur n'est toujours pas là… même pièce, même place dans ma chambre… RIEN !!! Quasiment aucun parfum dégagé… je suis extrêmement déçue, car je pensais avoir trouvé LE parfum d'intérieur pour ma maison pour les années à venir, mais seule la première grenade s'est avérée divine, les 2 dernières complètement inefficaces!!!
Je suis donc très perplexe, et me demande si je joue de malchance ou si votre marque a changé la concentration du parfum…
Je ne sais donc pas si j'en rachèterai à l'avenir, car ma déception est grande… Dommage, je pensais que j'avais trouvé une perle rare. Bien à vous.
Melograno in Scented Terracotta
Wish there was a refill option
I received this as a gift a year ago and the scent has entirely gone, but I can't bear to throw it away as it is such a thing of beauty. Is there any way of reviving it, or will any refills ever be available?
10 years:)
My 10 year old Melograno now has a home in my second skin drawer. I open the drawer, already transported and give it a little shake. Heaven…
Refills Please!
I love it! It is a beautiful object with an incredible scent. It is the perfect host / housewarming gift. I wish there was a way to refill/resoak it. Maybe a diluted fragrance?